YANGZHOU HANJIANG LIDA PET PRODUCTS FACTORY
Double Pin Brush

#Product introduction:
Double-sided brush, needle comb to open the knots, comb the bristles to remove floating hair, dust, etc. It can also be used as a bath brush. The steel needle on the surface has a massage bead head, which does not hurt the skin of the pet during the combing process. At the same time, it can also play a massage role. The airbag holes can help to circulate the air, and the massage is more comfortable during the combing process. This double-sided comb is suitable for both small pets and big pets with long hair.
Bamboo Slicker Brush

#Product introduction:
Bamboo handle brush, the handle is taken from natural bamboo raw materials, the bamboo pattern is clear and beautiful, the color is natural, no dust, easy to clean, free from the disturbance of insects, the bamboo handle can be laser engraved with logo, high resilience air cushion, reduce hair pulling resistance, Soft to the touch, prevent excessive pressure test, do not hurt the skin, you can come to beauty care at home.
Shanghai Catlink Intelligent Technology Co., Ltd.
CATLINK AI Cat Litter Box-SCOOPER (Young)

#Product introduction:
CATLINK AI Cat Litter Box-Scooper (Young) is a smart cat litter box operated by control panel. After the cats leave the litter box, the rolling sifting process separates your cat's waste from the clean litter. With 57L ball cabin and 13L ultra-large waste drawer, pet keeper just need to empty it for every 21 days (Based on test data from one cat). The cat litter box has three operating modes: auto, manual, empty, and the SCOOPER has multiple safety protections: through infrared sensor, gravity sensor, anti-pinch infrared sensors and inverted triangle stable structure design to ensure that no cats will get hurt. Used with CATLINK stair, it can help elderly cats and dwarf cats to go to the ball cabin better and reduce sand falling.
CATLINK AI Feeder-ONE (Multiple Pets)

#Product introduction:
CATLINK AI Feeder-One (Multiple Pets) is a pet feeder that will record and analysis the eating diet of each of your cat. The cat's eating data will be transmitted to the CATLINK data center in real time, you can know the cat's eating status anytime and anywhere. Using ceramic material, it can effectively prevent cats from black chin. The feeder identifies the cat through the ID tag, which is suitable for multi-cat family. And the feeder has unique isolation and food distribution structure, with baffles on both sides to prevent other cats from jumping in line to grab food, so that cats can stay away from obesity or malnutrition. With upgraded glue mixing plate and impeller and a large slide-type food outlet, it can be adapted to a variety of cat food and effectively prevent food jams.
NINGBO NOURSUN INDUSTRIAL CO., LTD.
Aquarium CO2 Regualtor

#Product introduction:
Professional aquarium CO2 Regulator, ideal for planted tanks, performing stable working pressure, compatible with any size Co2 cylinders with various inlet adapters. The attached needle valve is 360 degree rotatable, fine tune CO2 flow adjustments with high precision, and the bubble counter is with built-in check valve, both are developed and made by ourselves. The low-power and low-temperature-rise solenoid valves is used. Quality Control from start to finish and full inspection before each shipment.
Shenzhen Omnihero Technology Co., Ltd.
Pet Vacuum & Blow Dryer

#Product introduction:
A product that can vacuums and blows hairs, and with a very innovative design! Air outlet protection, increase the hose anti-falling hoop, make you feel more assured. Low-noise technology, double-layer insulation and mute design, enjoy a clean and quiet time. Independent air duct design, high-speed airflow directly to the hair root, double-layer thermal insulation and mute design, high-efficiency independent air duct, high-speed airflow carries moisturizing negative ions directly to the hair root and skin layer, which can help improve pet's hairs condition. The "turbo-increasing meow" air duct design specially developed for the pet's hair blower not only ensures the drying efficiency, but also cooperates with the unique noise reduction technology of the whole machine to enjoy a fast, quiet and clean time. The host safety protection design, the air inlet filters the hairs and the foreign matter enters to reduce the failure. Tens of millions of negative ions are always working regardless of hot air or normal temperature, and the negative ion generator is working without a separate switch. The new generation of thermal insulation material eliminates high temperature feeling and is more comfortable. The new generation of thermal insulation design is not afraid of high temperature that would hurt your hands, it is more comfortable and increase using-confidence. It can be wall-mounted and used, making it easier to blow hair. The household-grade vacuuming kit will care every single hairs of the pets. The high-density vacuuming kit, together with the vacuuming brush, can easily transform into a good helper for vacuuming dusts and drying hairs. Easy to collect and give you a clean and tidy home.
Smart Pet Feeder

#Product introduction:
Newly upgraded intelligent double food tray feeder, 5 liters large capacity, multi-pet healthy diet, with new choice single and double food trays, heightening foot pads, video & voice interaction with pets. It is not only a smart feeder, but also an all-rounder for feeding, easy switching between double-feeding or single-feeding basins. One machine for multiple purposes.
Automatic food distribution to meet the dietary needs of single pets or multiple pets. The APP controls and manages the pet's exclusive feeding plan, and the mobile APP can formulate a healthy and scientific diet plan according to the pet's eating habits. You can watch your pet's every move at any time in HD video. Through the mobile app, you can easily watch your pet anytime, anywhere, and get the pet's status in real time. You can also capture the moments of the pet's cute time and share them with friends to convey happiness.
Daily feeding records can be viewed to prevent obesity caused by overfeeding.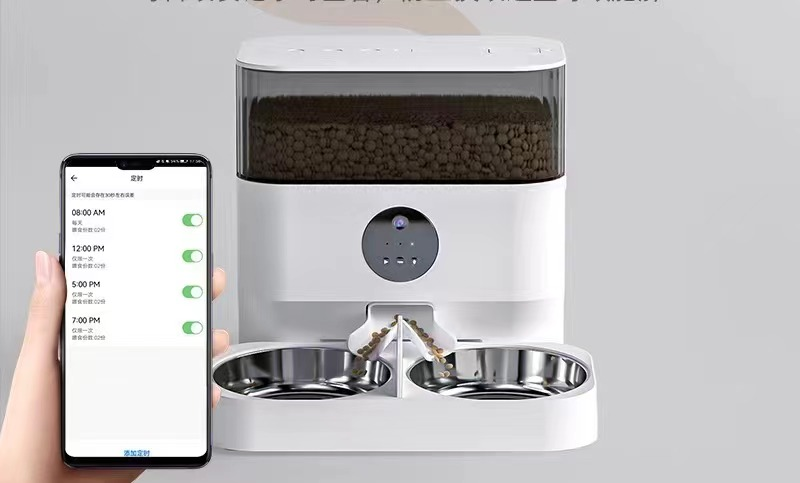 Yiwu Senye Pet Products Co., Ltd.
olive Ball

#Product introduction:
The material of this olive ball is TPR. The color-blocking design of the bone shape can better highlight the brightness of the product. The olive shape is a popular shape and can better interact with pets. The product size is suitable for medium and large dogs.