300+ professionals will get together for the one and only comprehensive pet food forum in China.
The third edition of CIPF provides the best opportunity to understand the regulations, trends and markets in China. The forum, co-organized by Institute of Feed Research of Chinese Academy of Agricultural Sciences (CAAS) and China International Pet Show (CIPS), will be held on Nov. 17 during CIPS in Guangzhou City, China.
As one of the fastest growing countries, pet food industry in China has reached a high growth rate in recent years, making this market ideal for expansion and investigation. Pet food consuming market has grown from 0.72 billion USD in 2010 to 8.25 billion USD in 2021. In 2022, pet food industry total value is expected to reach 26.65 billion USD.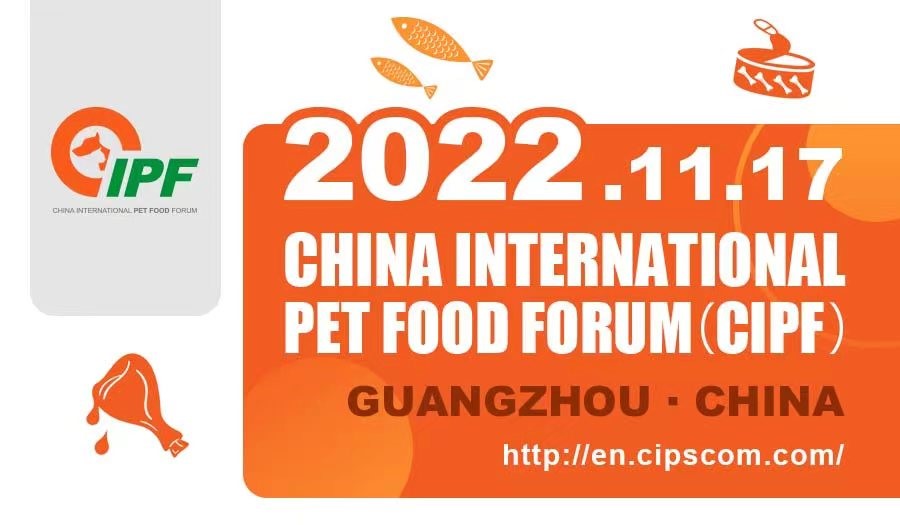 CIPF 2022 Highlights and Topics
CIPF 2022 covers China regulations analysis, market and consumer behavior analysis, ingredients, nutrition, processing technologies and global markets.
Ø Interpretation of China's Pet Food Industry Standard
Ø A Study of China's Pet Food Market, Import & Domestic
Ø North American Pet Food Industry's New Structure
Ø The Status and Trend of Japan Pet Food Industry
Ø The Fast-Growing South-East Asian Pet Food Market
Ø How to Choose Food Additives, Chicken Powder, and Other Raw Materials
Ø New Protein Alternatives as Plant Protein or Insect Protein
Ø Quality Control of Animal Protein
Ø Intestinal Microflora that Cannot Be Ignored
Ø Trends in Nutrition
Ø Application of Natural Plants and Their Extracts in Pet Food
Ø Latest Progress in Baked Food
Ø Low-temperature Air-Dried Raw Bone & Meat Food Technology
Ø High Fresh Meat Ratio Adding Process & Technology
Ø Trends in Pet Food Nutritional Supplements
Ø Processing Technologies in Baked Food
Ø High Ratio Fresh Meat Food Processing Line Control Technology
Ø Nutrition Balance of Raw Meat & Bone Food
Ø Freeze-Dried Pet Food Quality Control
Attendees include professionals working in pet food nutrition, ingredient and processing technologies, packaging, food science, R&D, product development, food safety, QA/QC, purchasing, import/export, regulatory compliance, marketing and sales.
Attendee Analysis of Previous Two Editions
| | |
| --- | --- |
| OEM Manufactures | 30% |
| Brands | 22% |
| Raw Materials & Ingredients | 18% |
| Machinery | 10% |
| Packaging | 8% |
| Logistics & Storage | 5% |
| Consulting | 4% |
| Others | 3% |
CIPF welcomes strategic partners and media partners. Organizers will provide press releases, presentation opportunities and marketing promotions for their partners. Please contact Ms. Lisa Pang at panglx@chgie.com or visit http://en.cipscom.com/ for more information.